Happy weekend!! Today, I wanted to share a bit about how I organize my students' tables and materials, in hopes that you may be able to use one of the signs or storage ideas.
So, this is my third year of using tables in my 5th grade classroom and I just love them! I think there are so many positives to having tables in my classroom:
It's very easy to change seats (no more moving furniture!).
We don't have any more hidden messes inside the desks (nothing worse than finding an old milk in the recesses of a desk, believe me!).
Everyone has their own place to sit, but groups can be fluid and change easily for collaboration in different subjects/lessons.
There is less visual clutter!!! There is such a huge difference in the room…I still notice it, even though it's been years (ok, I wasn't going to write this because it will probably sound crazy, but the tables have less legs and don't have those desk openings, which REALLY tones down the visual distractions!)…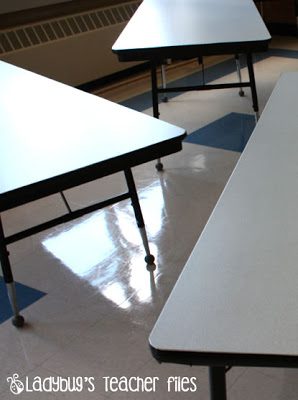 Though I love my tables, I will be honest with you, my dear readers. It really has taken some time to evolve into an ideal system, storage-wise.
BUT, I think I finally have it just the way I like it and, most importantly, in a way that keeps my students organized and ready to go at all times!
Here's a peek at our setup…
1. Textbooks and Dry Erase Boards
All student textbooks and dry erase boards are stored on the windowsill in baskets from Really Good Stuff (I shared more about this in an earlier post
here
)…
(please click
here
to download the editable labels shown above)
2. Numbered Drawers
Each student has a storage drawer, labeled by their class number (for more information on these drawers, please see
this post
from August)…
These extra-wide drawers store the students' binders, Everyday Math Journals, and Reader's Workshop materials…
I love these drawers!! They hold a great amount and make everything look all neat and tidy when packed up at the end of the day!
3. Table Baskets
This is the newest addition to our system. In the past, I've always kept my community supplies in baskets, on a shelf for students to grab and use.
This month, I decided to tweak my supply system a bit and add everything we might need during the day and label it by table number (I think I am number obsessed this year!).
So, each table has two baskets with coloring materials, pens for note-taking, highlighters, dry erase markers, glue, and erasers…
everything we might need during a lesson…and anything that will eliminate time wasted on passing out materials!
Each group has a table manager in charge of keep the materials organized and placed out on the tables. At the end of the day, the baskets are returned to the shelves, so the tables are clear and ready to clean.
What about those students with lots of supplies from home?
I have a couple who have pencils boxes of all those awesome pens, markers, and fun little items. I definitely get this (loving a variety of supplies myself) and don't mind if they keep these out on the tables overnight, as long as they are in a pencil box.
4. Chair Pockets
I don't have a current picture of my
chair pockets
yet…it was a hit-the-ground-running kind of start to the school year and I still haven't attached them. My goal is to get them up this week, so my students can have their current read right at their fingertips.
I hope this was of some help and that you might be able to use one of the files in your room! And now, I'm curious to know…
Do you have desks or tables for your students? What are some storage tips that have worked well for either in your room? Thanks so much for visiting! 🙂