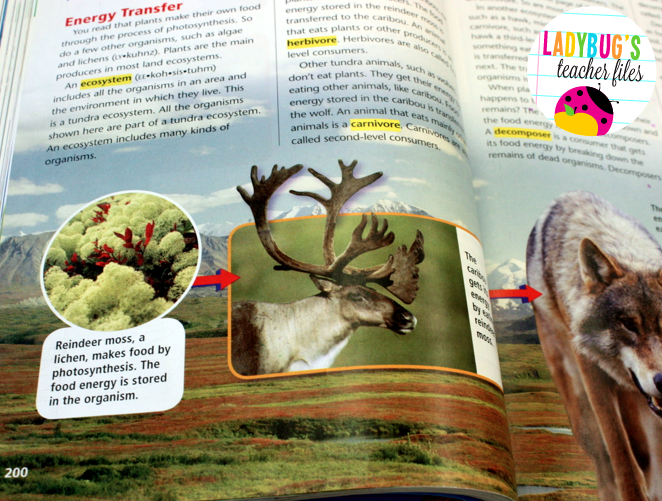 We are deep into our nonfiction units in both Reader's and Writer's Workshop. In Writer's, my students will eventually create their own informational text. In Reader's, it's all about reading and comprehending a variety of nonfiction texts.
Speaking of that, those nonfiction text features have a huge part in the comprehension of advanced texts, don't they?
featuring…features!
Well, not so much maybe.
My 5th graders know them all by name, they know their various purposes within a text. But were they always utilizing nonfiction text features for information?
I wasn't so sure after a recent benchmark assessment.
Student after student read fluently through the running record book…but completely gliding past numerous charts, diagrams, and captions, all carefully designed to support their comprehension.
vital visuals
So I decided to turn to our science text which is chock-full of important text feature visuals…especially in the section on ecosystems.
This section was actually perfect for such an activity, as the features are key in understanding consumers, producers, decomposers, food pyramids, and so many other terms the students must learn.
I photocopied selections from the chapter, then blocked out all of the regular text, leaving all of the text features alone on the page: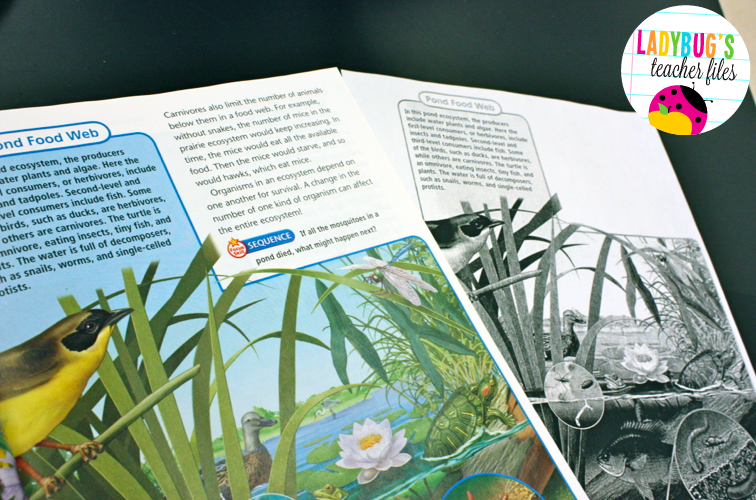 I then asked my students our Essential Question for the lesson:
how do nonfiction text features help with our comprehension of informational texts?
(nothing better than the combination of Reading and Science, right?)
After a quick discussion of what we already knew about this question, I handed my students the text-less (new word for you!) chapter selection along with a graphic organizer.
I asked the students to find as many facts from the nonfiction text features as they could and record them in the organizer.


My 5th graders got to work, highlighting and recording all those facts. I watched them study the pictures and captions very closely, sharing out what they discovered with their teammates.
As they recorded facts, students also demonstrated facts they had already known versus new information:
(I'm sure you can guess which column had more checks, as was the intent!)
Then we shared out and recorded facts we had discovered on a chart. There were quite a few facts we had learned, and all of this information came before we had even read the chapter! (can you hear me exclaiming this to my class?)
what does this mean to us as readers
of nonfiction texts?
We then took some time to reflect on the experience and what it meant to us as readers.
I have learned from my dear friend Jen over at
Runde's Room
the immense value of reflecting over everything we do in class, so I knew this would be an important closing to our activity. (thank you Jen, I can't tell you enough how you helped me evolve my practice!!!)

My students realized how much information could be gained from the text features and were able to share this nicely in their reflections.
And, as an added bonus, it turned out to be a wonderful frontloading activity for Science, as we hadn't even read the chapter yet!
features in the future
In our reading groups, my students now take the time to look all over
the page at the various features, remarking on their findings before
reading a particular selection.
And to help continue this practice of utilizing features for information and comprehension, we continue to examine and identify our learning from text features across all subject areas.
would you like to try this?
I designed the graphic organizer used with my students to be pretty general, in hopes some of you may be able to use this as well.
If you would like to download this file, please click on the image below:
facebook friends?
Before I dash off to plan for the week (don't be impressed, I'm bound to get distracted by something more pressing!) I did want to say I've been making a concentrated effort to share happenings in our classroom on Facebook, since I've been such a intermittent blogger this year. I would love to see you there if you would like to follow!! 🙂
Thanks for visiting, I hope you can use the file!