Instant Classroom Management with Slides
Google Slides have become a tool I rely on to manage my classroom over the years. It's just so easy to create with them! And they make the perfect visual to share with your students on a classroom television or computer projector.
Now I will be honest with you.
These slides were made out of necessity to help in areas I was struggling with for classroom management. Thankfully, they have helped a great deal with organizing and managing things. And they have saved my classes a great deal of time!
So today I wanted to share three ways I've used Google Slides to manage our classroom:
Managing Lessons
Managing Seating Charts
Managing Field Trips
And the best part? Once these slides are created, you can reuse them for years after!
MANAGING LESSONS
Time to start a new lesson? You know how it goes. We transition to a new subject and there's a clamor.
What do we need again? Do we need our notebooks? Wait, I forgot my pencil!
The lesson gets started and now I've forgotten something else my students need! Back they go to get the item. Time goes by…precious learning minutes wasted. I knew this was an area I needed to improve.
Back in 2017, I started something that changed everything for my classes. I started using Google Slides to manage our lessons.
I designed Lessons at a Glance that contained everything my students needed to know for the lesson:
date
lesson time
essential question
materials needed
steps to complete independent work
I posted them on our classroom television at the start of each lesson.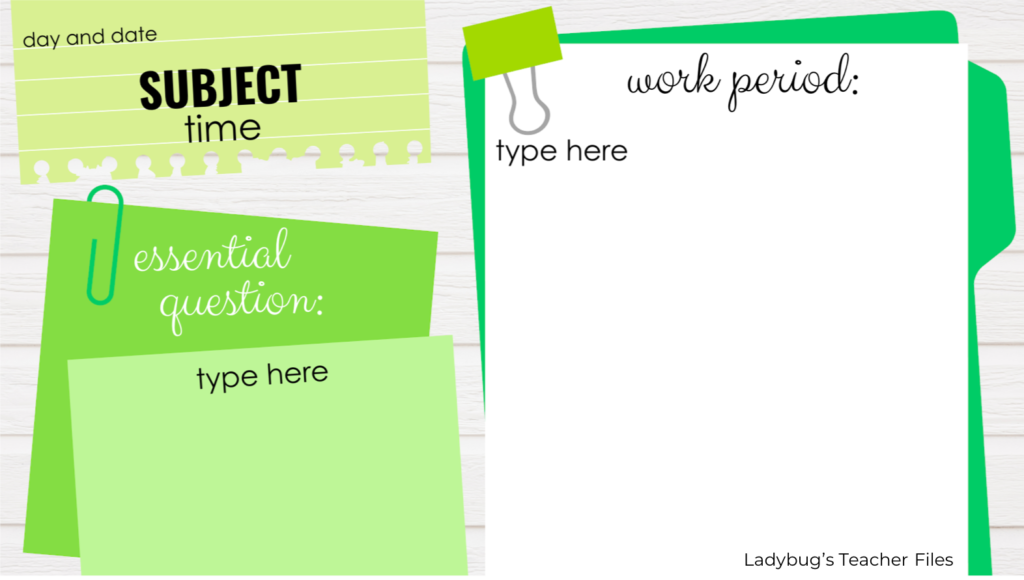 It was a COMPLETE game changer for us.
I was prepared ahead of time, all the time. I would start off each lesson displaying the slides. And in an instant, my students could see exactly what they needed for materials and what we would be working on that day.
All of a sudden, my students were ready in just a few moments. No more time wasted gathering items and missing directions.
And I NEVER had to repeat myself!!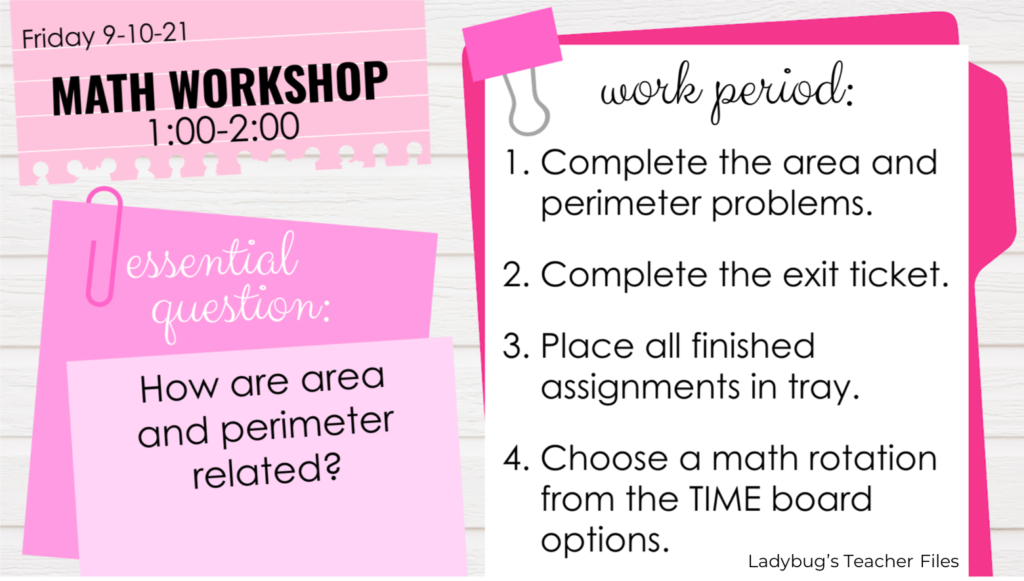 These lesson slides quickly became vital to my teaching. And I haven't taught a day without them since.
I recently updated the slides for the coming school year. I wanted to keep the same tried-and-true layout, because it has always worked so well for us…but tweak a few things to make them a bit more evolved.
So I created two slides per subject area, one to showcase the materials first…then a second, similar slide to share the activities and assignments my students would complete.
I also added a ton of icons as visuals for my learners. I rely on visuals myself as an adult, so I know these will be of great help to my students this year:
Please click the image below if you'd like to see more about Lessons at a Glance:
Managing Seating Charts
Google Slides have also been so helpful in managing seating charts.
I really struggled with creating seating charts in an organized way in the past. I would always use scraps of paper that I would immeditaly lose when it was time to change the seats! Ugh, so much time wasted.
Then I started creating my seating charts in Google Slides.
And I found slides were the perfect tool for designing seating plans:
it's really easy to create your room layout (just use shapes!)
students can be moved easily by dragging their name textbox
you can share the chart with your students to make seating transitions quick and smooth
This was my plan from my fourth grade class a couple of years ago. I used the custom colors in slides to match our seating colors: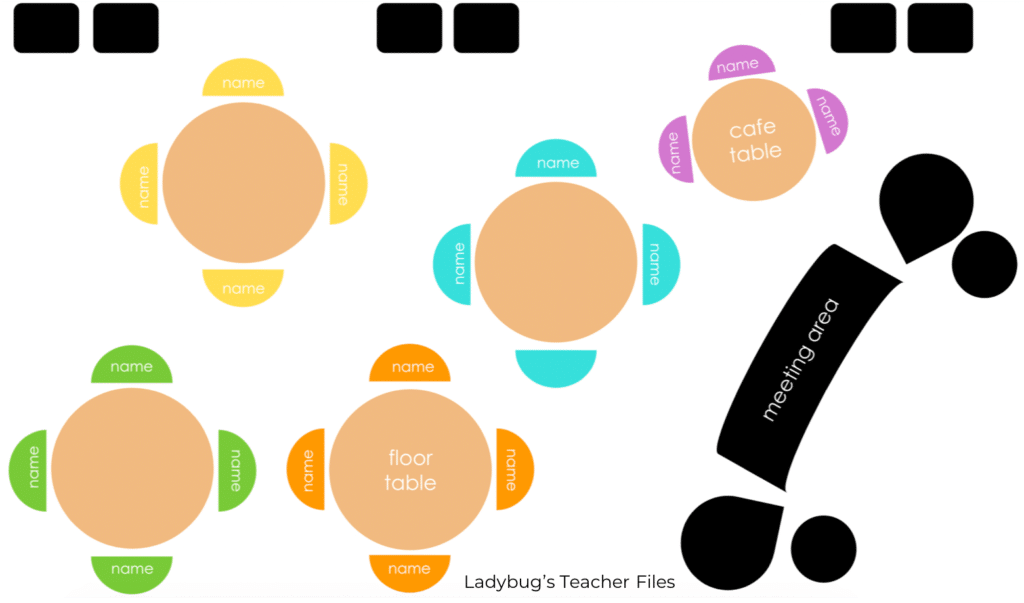 The color-coded chart really helped me when I was working on seating plans at home.
And it also helped my students.
Because the BEST part of all this is I can just share the seating slide on our classroom television! Moving seats became a much faster process because my students could easily see where they were going, rather than waiting for me to tell them.
I've had so many different charts over the years. This is a template I used back in 2016:
I have a copy of this seating chart template to share with you. One slide features circles for tables and the other has squares for desks. You can modify it in any way you like for your class and type of seating.
Managing FIELD TRIPS
I LOVE this one.
Field trips can be a lot to manage, as you know. From explaining what the trip entails, to the expectations for behavior, to sharing the chaperones and groups…it's just a lot.
And I always felt like I was just talking at my students as I explained what would be happening on the trip.
Once again, Google Slides saved me!
I create several slides for our field trips. Each slide features photographs and some important information. This helps me remember to cover everything I need to when discussing the trip with my students.
It also provides a great visual for the students as we go through everything together, rather than me just explaining it.
I set up a slide with a quick overview of where we are going:
Then I create a second slide with more information and expectations for behavior: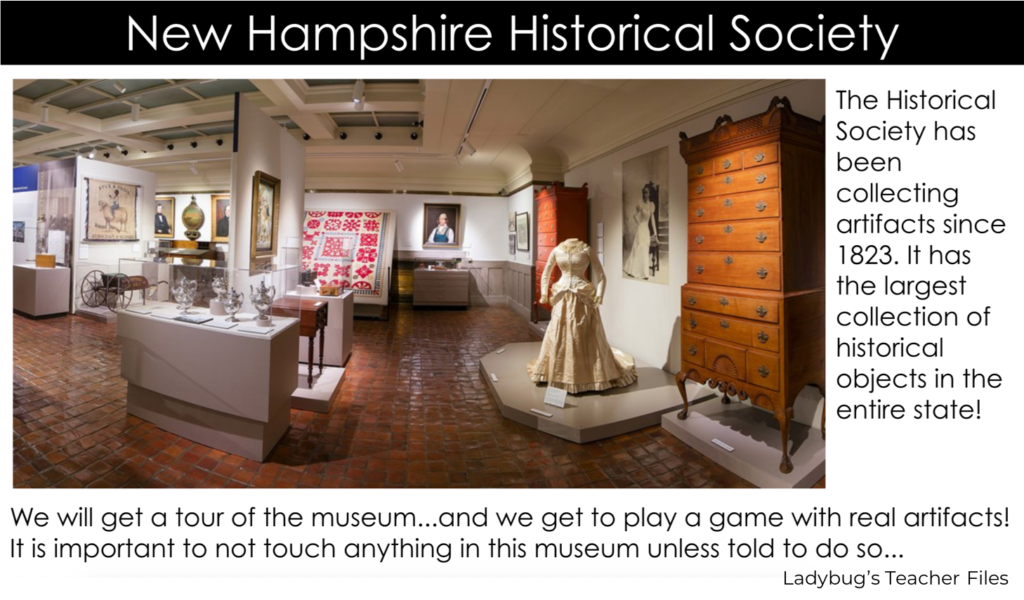 Next, I create a slide with our itinerary and what the students will need to bring:
This takes care of all the questions my students have before the trip. Then, on the day of the field trip I display one more slide for them as they enter the classroom.
This slide is also helpful for the volunteers who are chaperoning:
Just like Lessons at a Glance, these field trip slides save me from repeating myself so many times!! Everything my students need to know is presented in a visual format and we are all on the same page.
I hope these ideas for Google Slides were of some help! They have saved us SO much time in class and I can't imagine teaching without them.
Would you be interested in more ways to use Google Slides to manage your classroom? I have other slides that have been a huge help to our class I would love to share in a later post!
Thanks for reading!
Kristen Beakey
I'm an elementary math coach with a passion for sharing beautiful, streamlined solutions to save teachers time. Ladybug's Teacher Files has been a work of love since 2010. Filled with organization, time-saving ideas, and make and take tech tutorials…I strive to save you time in all aspects of your teaching!