Custom Color Swatches for Google Drive
Creating color swatches for your Google Drive is an easy way to save time when you design assignments for your students.
All you will need to do is to choose a color palette of your favorite shades and save them in a format that will work for Docs, Slides, and Sheets.
This template goes with my Google Drive Shortcuts At-A-Glance. I keep these three references at the top of my Drive to refer to often: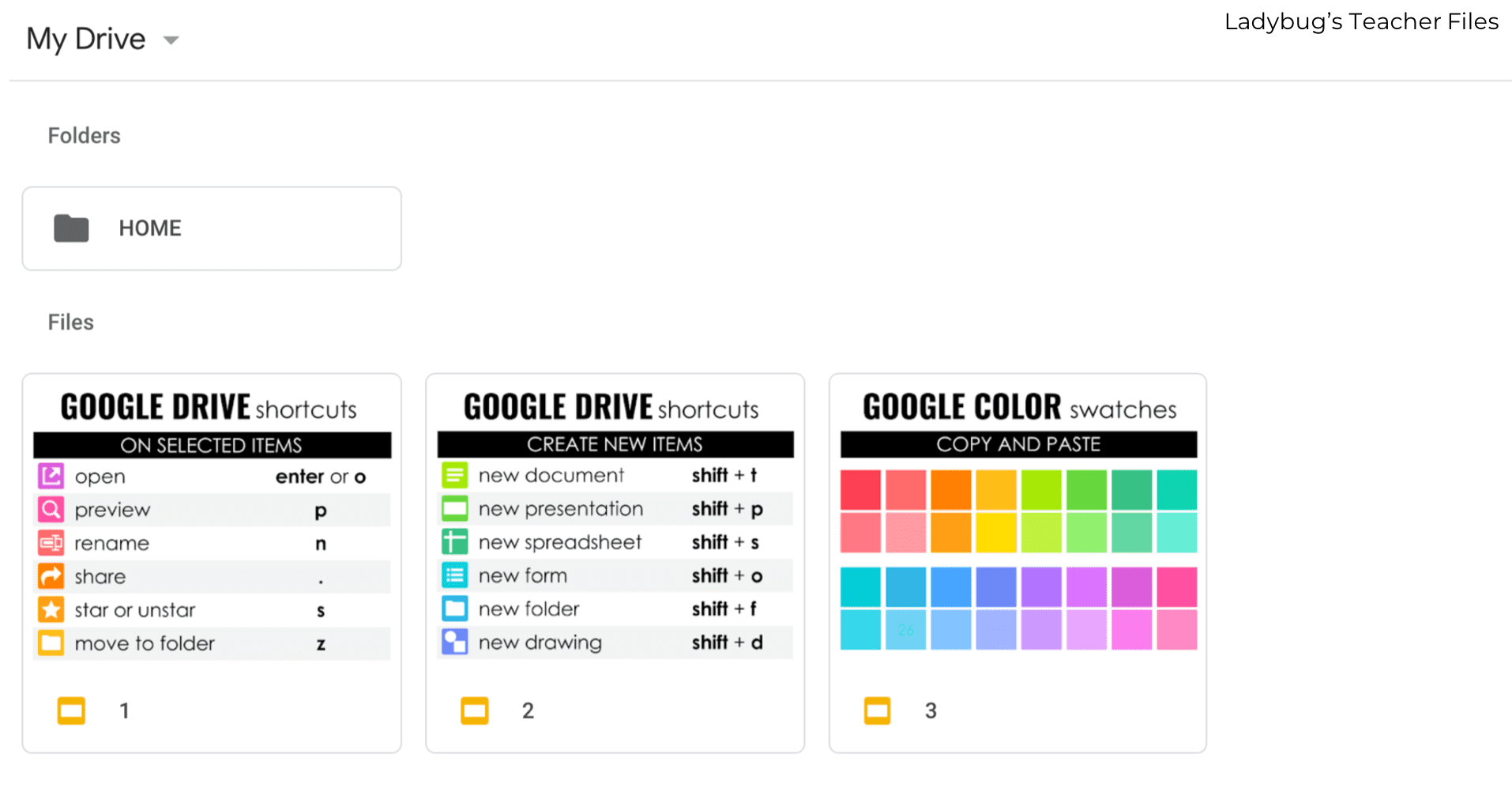 To save you time (always my goal!!) I have some quick steps and a template to get you started. I also have a set of 108 beautiful custom color swatches, all ready to go here if you'd to grab some ready-to-go colors:
Ok. Ready to save yourself time designing this year?
CREATING THE COLOR SWATCHES
This part is a lot of fun!
Using the custom colors feature in Google Slides, we will choose some great shades you can use every day.
It will be easiest to use a template to start with. I created one in Google Slides that features 32 different colors…we will use that one to create a template for your Drive!
First, download the Google Drive Color Swatches by clicking the image below:
Each square features a different shade. To customize the color to your liking, click on one square: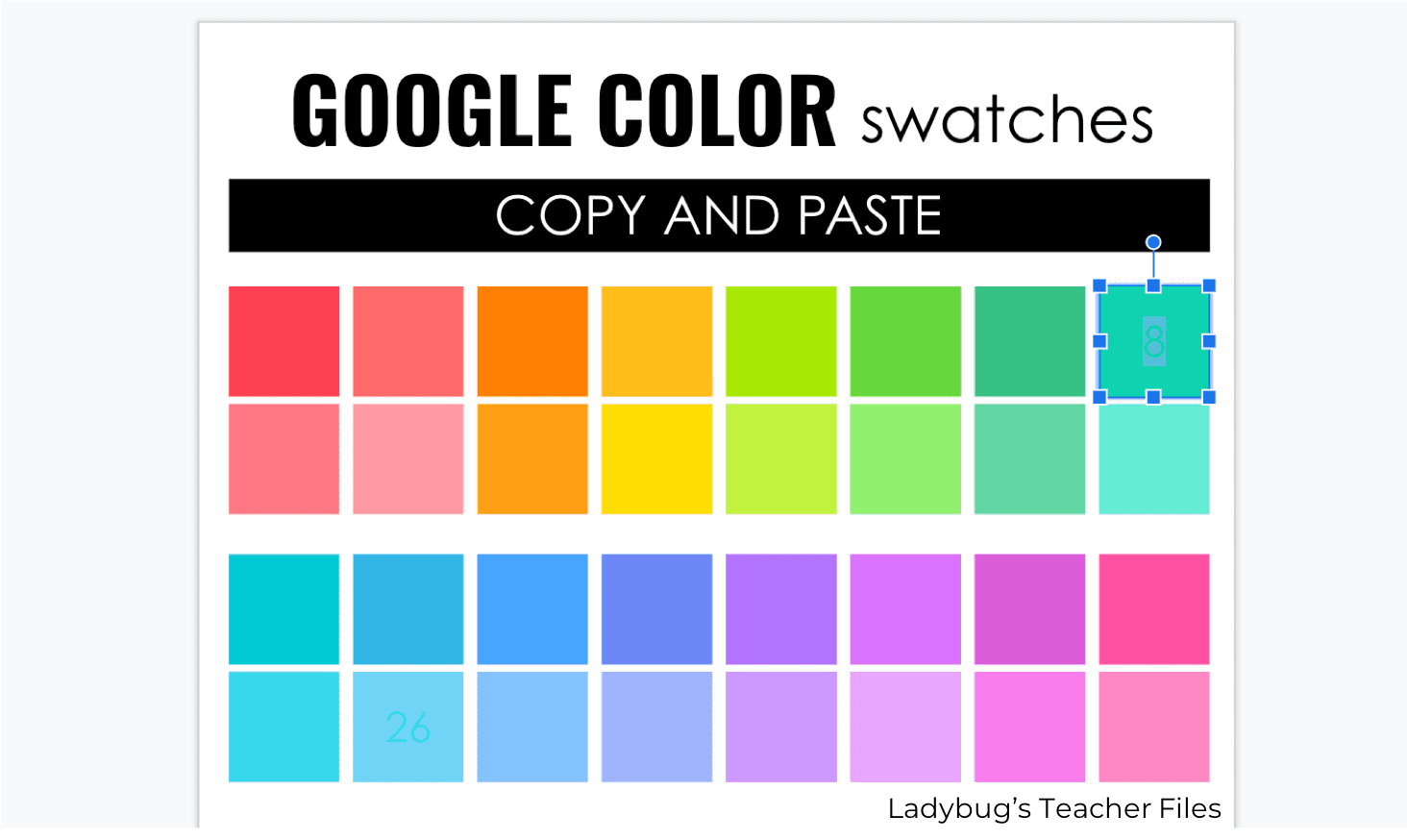 Click on the paint tool and then go to Custom: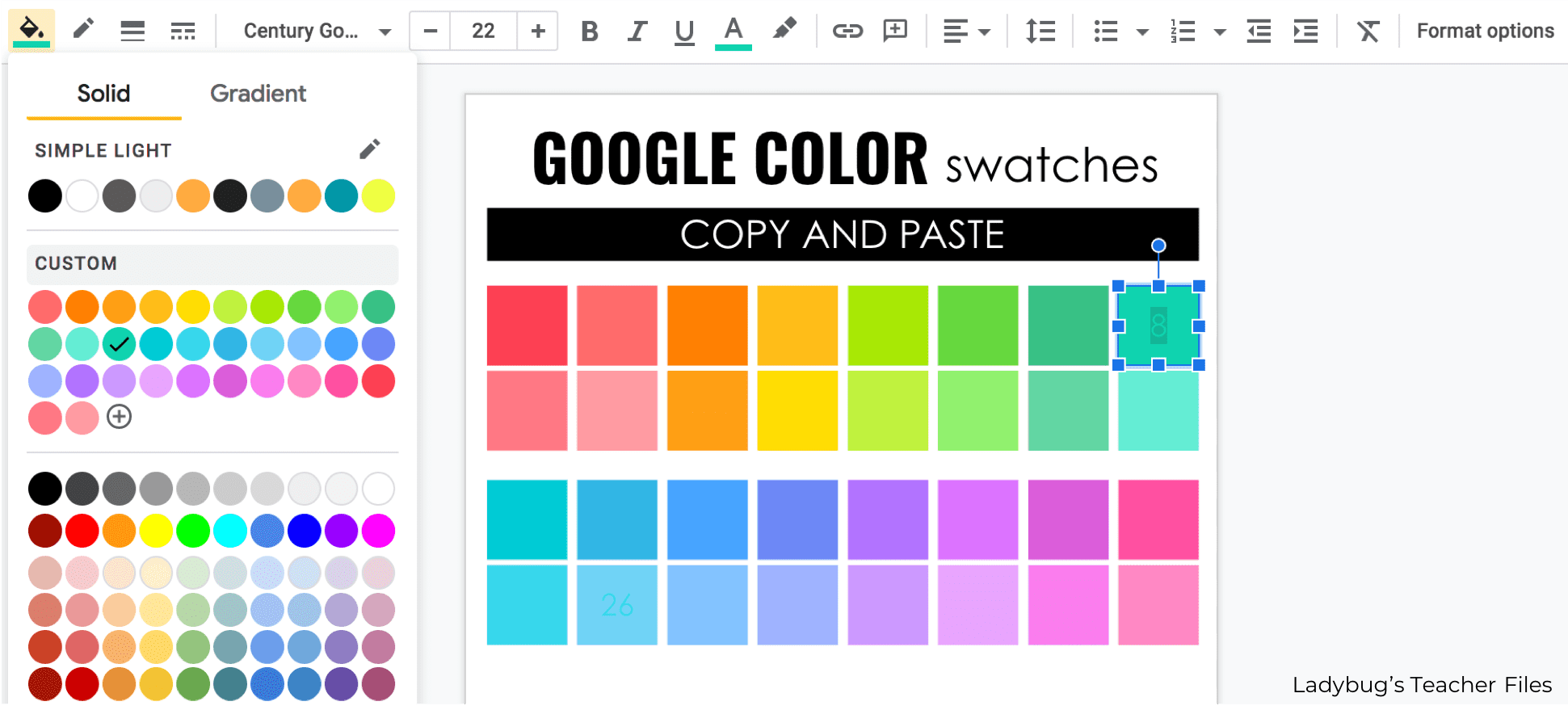 Change the color by moving the gradient and the hue slider until you find your perfect shade: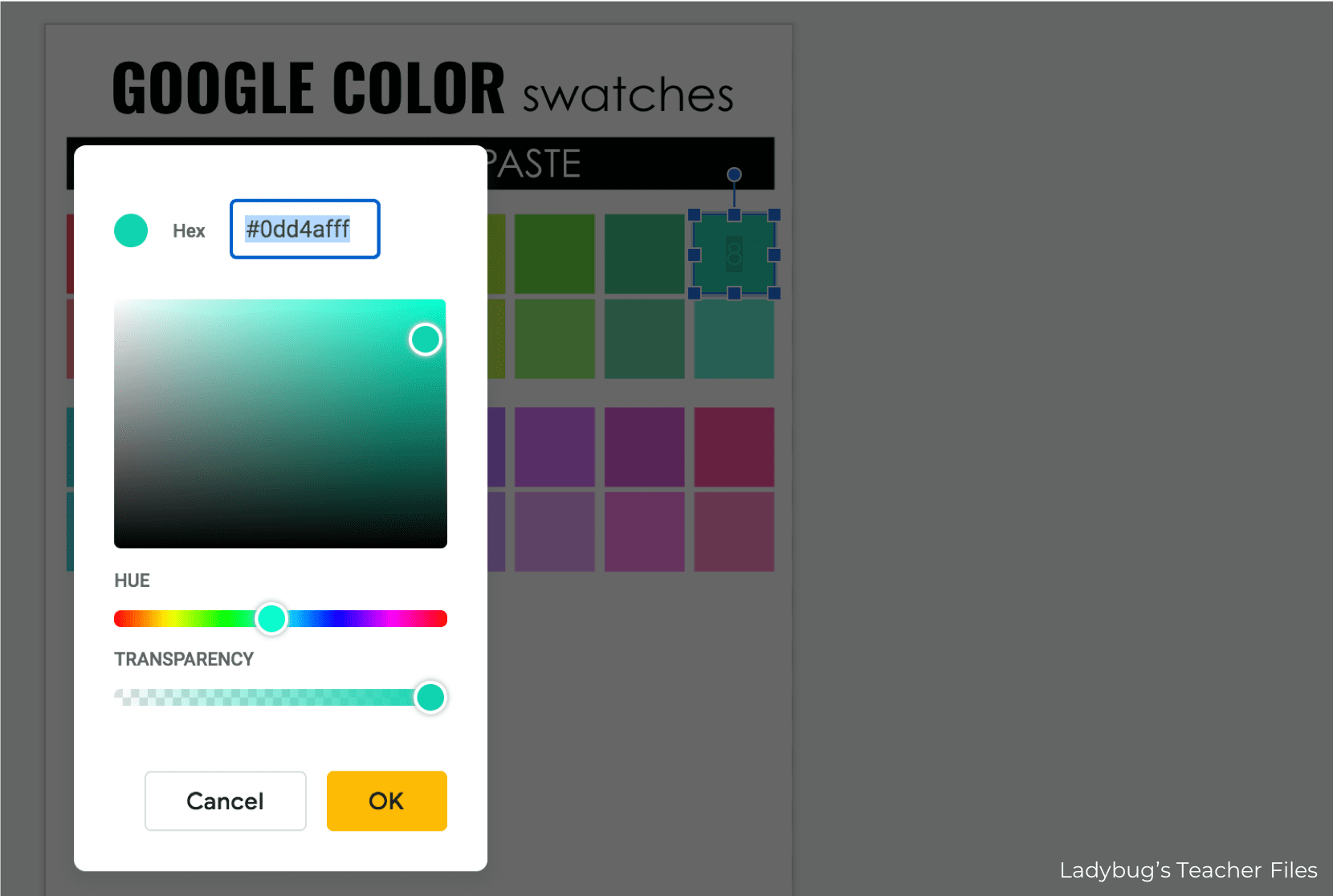 The template I shared also includes a slide without colors, so you can create your own shades from scratch if you would like: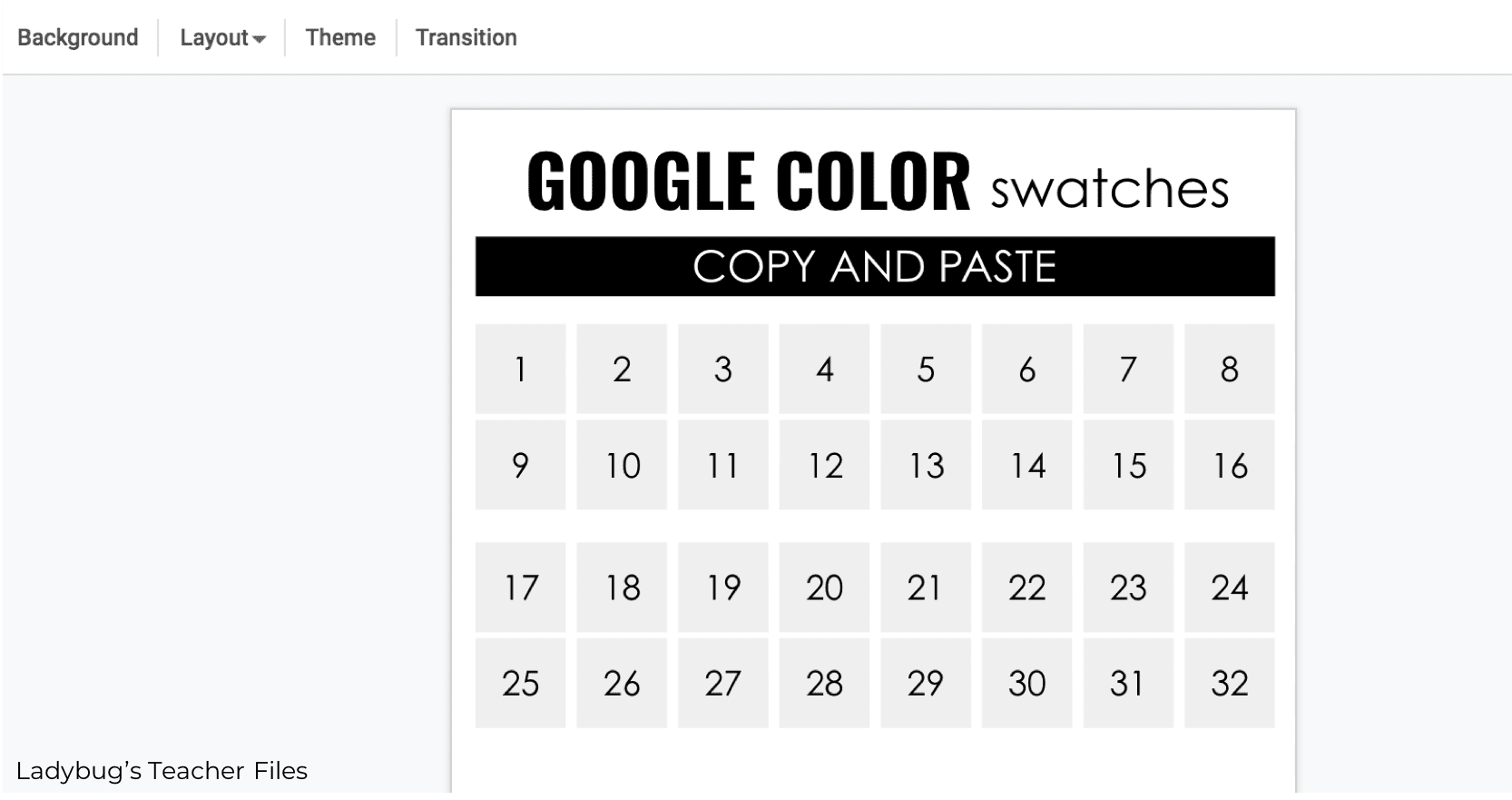 As you choose each color, be sure to make the number in the color swatch match that exact shade…I'll show you why we need this in the next section.
To do this, double-click on a number to highlight it: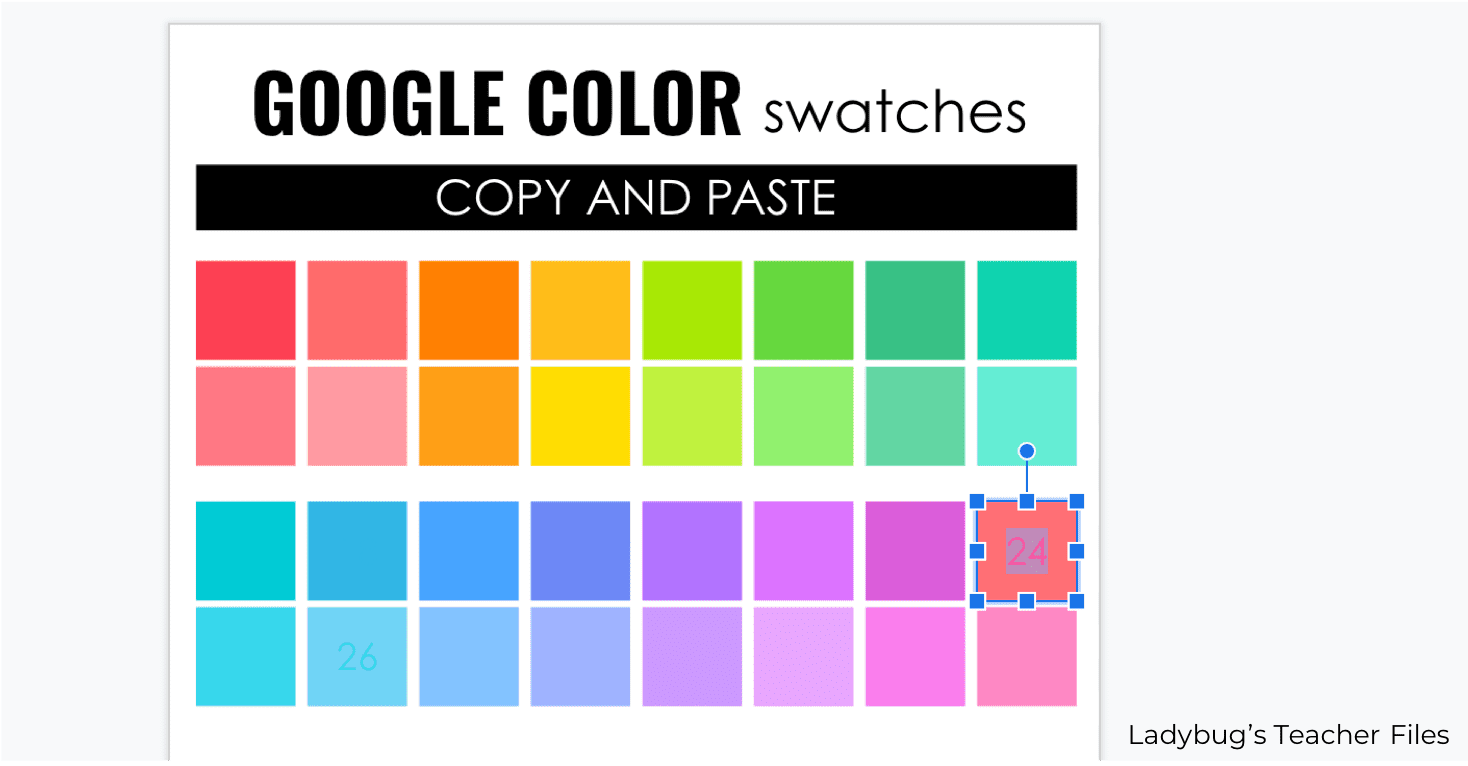 Then go to the text color and choose the same custom shade. This should be the last color in your custom list since you just created it…next to the + sign: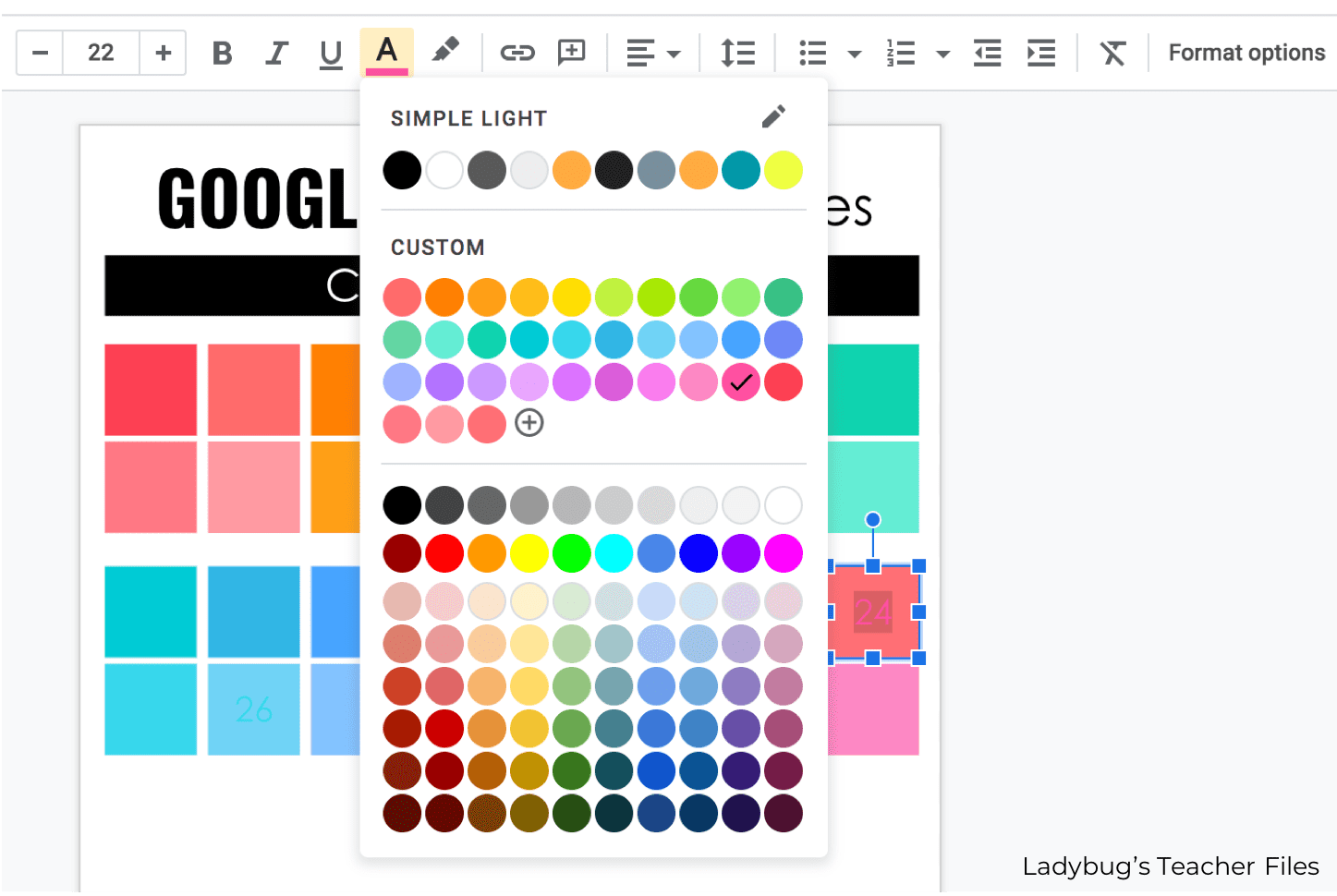 Once you have done this for all the color swatches you would like, your template is ready to use!
USING THE COlORS IN DOCS, SLIDES, AND SHEETS
Using the template in any part of your Drive is easy!
Let's take a quick look at how it works in Docs, Slides, and Sheets.
GOOGLE DOCS:
To use in a Doc, click on any swatches you want. You can select multiple swatches at once by holding the Shift key as you click on them:
Copy them and open a new Doc.
Paste them into the Doc and you will see the numbers appear (since we made this in a Slide, the little square won't carry over):
But our colors are now stored in this Doc! And they will remain in the Doc as long as you have text with those colors: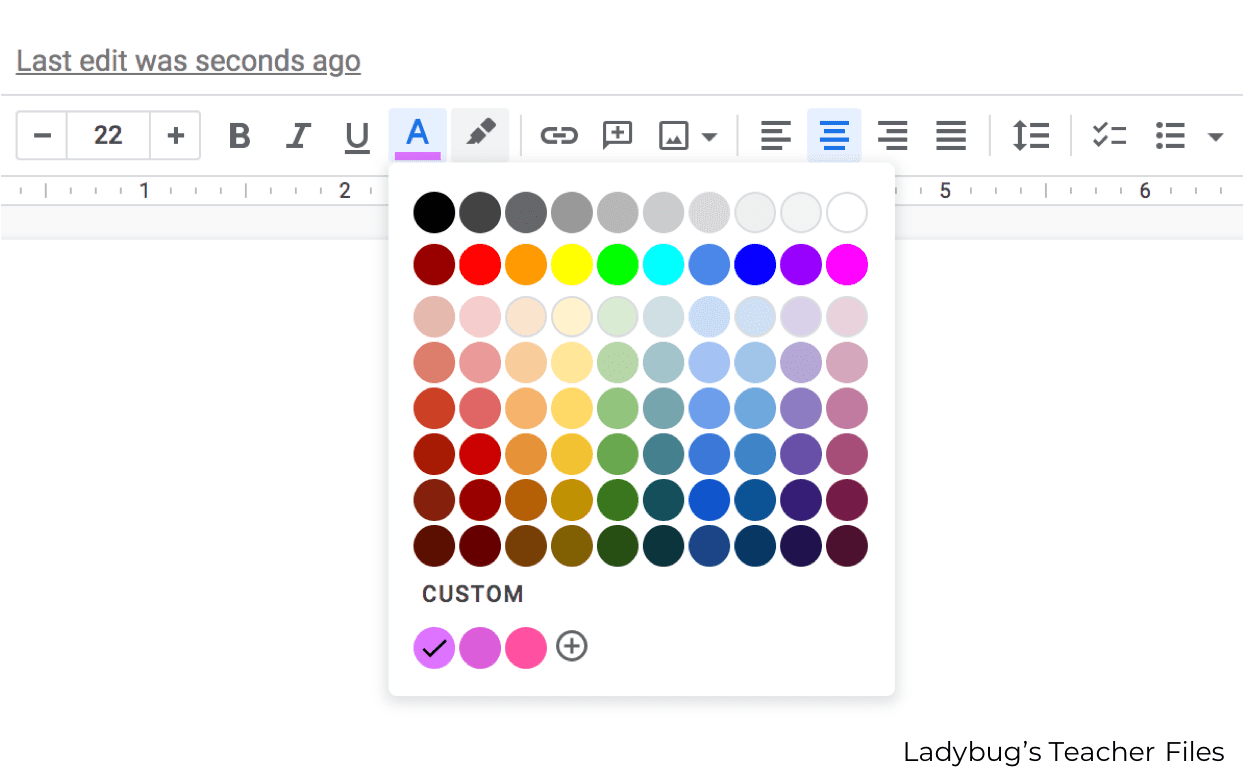 GOOGLE SHEETS:
The same will happen when we paste our colors into a Google Sheet…the numbers will carry over and the colors will be automatically loaded into the sheet:
You will find the colors in the text menu under Custom: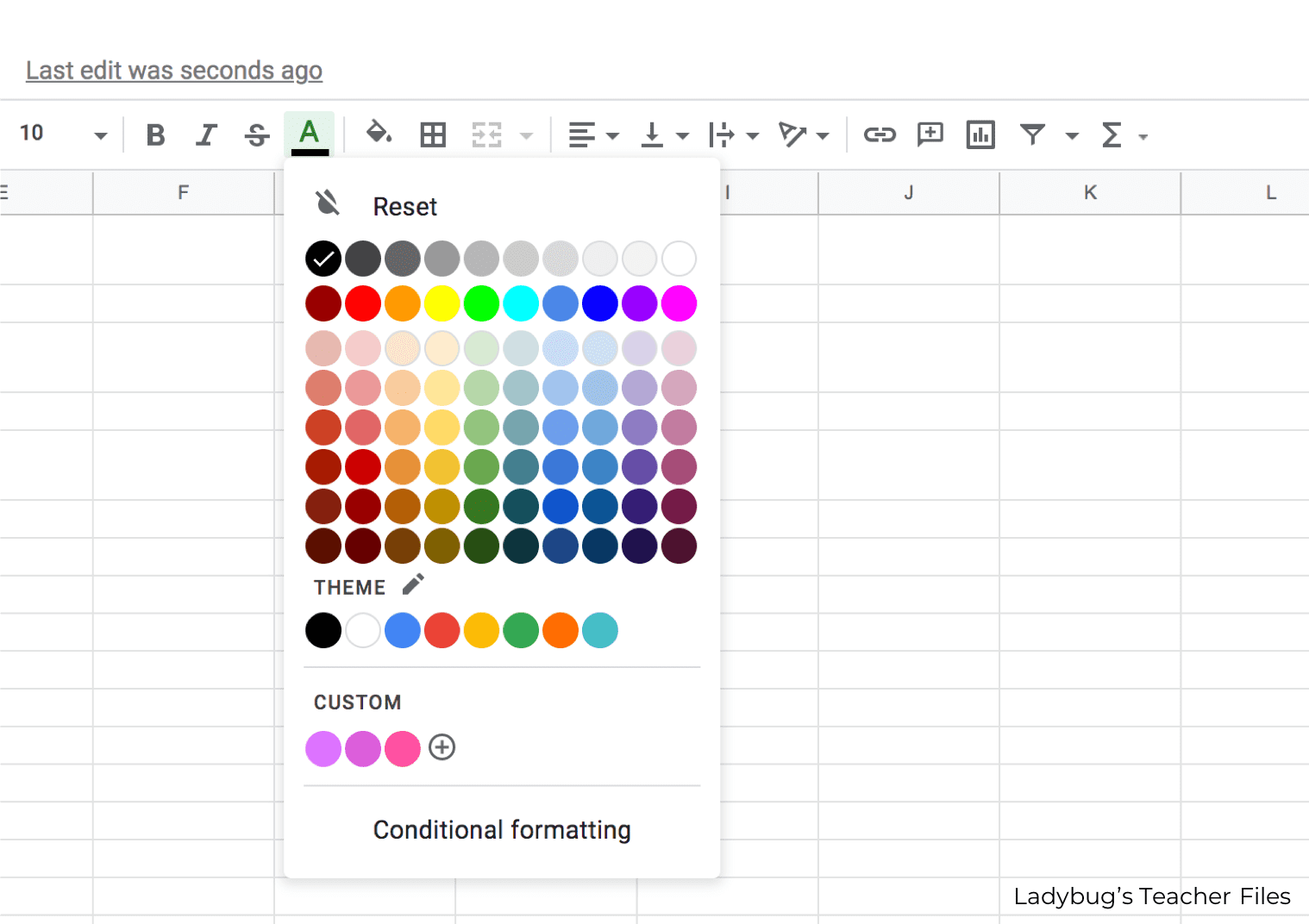 GOOGLE SLIDES:
Since we created the color swatches in Slides, they will copy and paste in the same format. The colors will be saved in the shape and text color custom areas: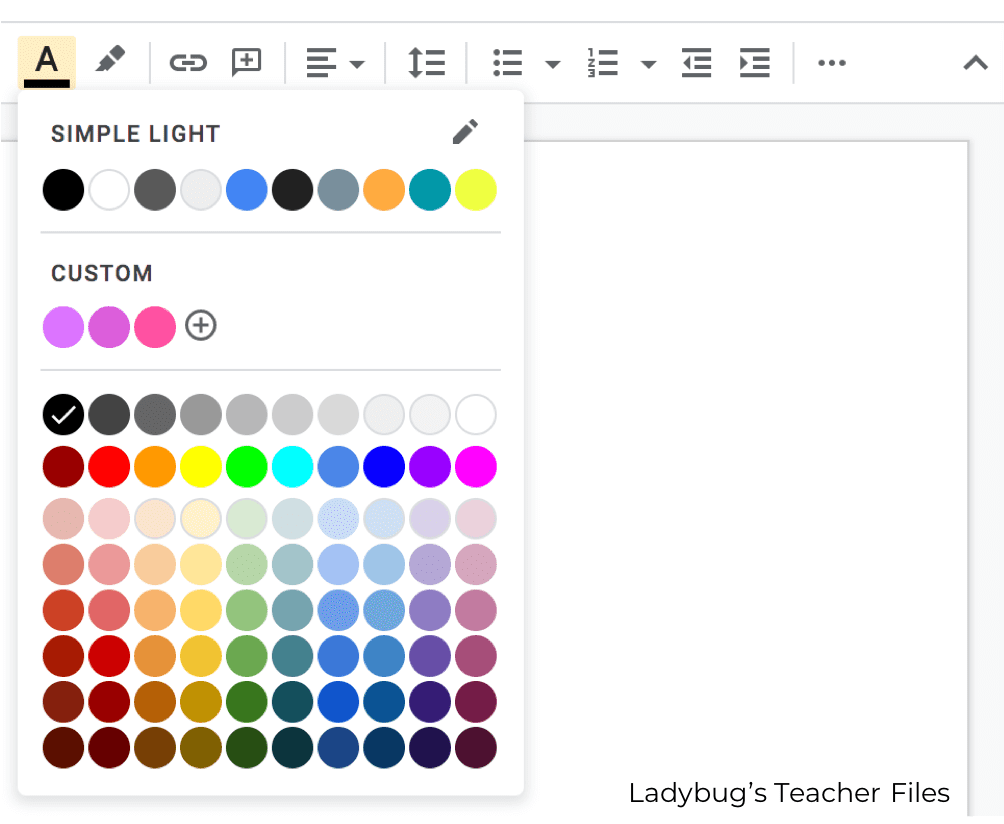 And that's it! Store your template in your Google Drive where you can find it fast and save yourself time each time you design!
Looking for More Custom Colors?
Want to save yourself all those steps? I have several resources featuring custom colors, all ready for you to add to your favorite Google tools: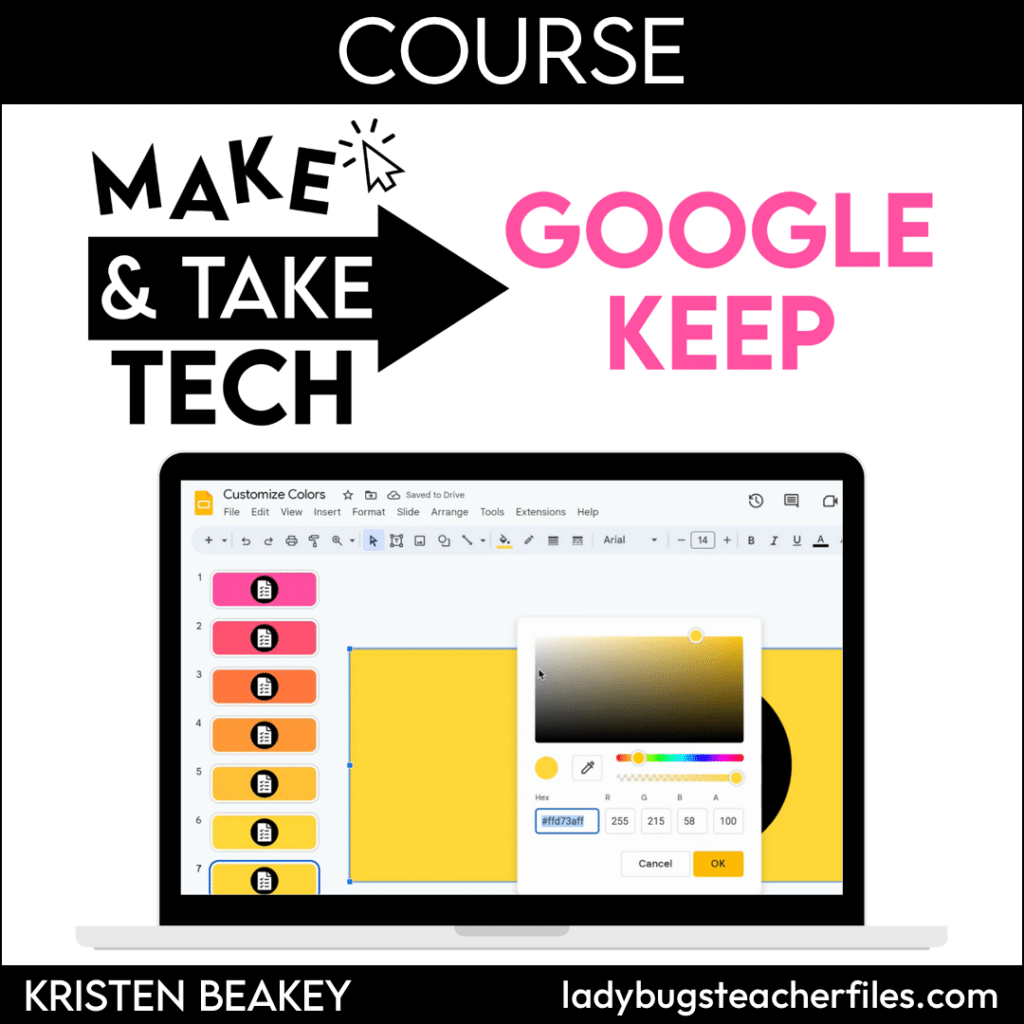 Kristen Beakey
I'm an elementary math coach with a passion for sharing beautiful, streamlined solutions to save teachers time. Ladybug's Teacher Files has been a work of love since 2010. Filled with organization, time-saving ideas, and make and take tech tutorials…I strive to save you time in all aspects of your teaching!