Creating Fractions in Google Slides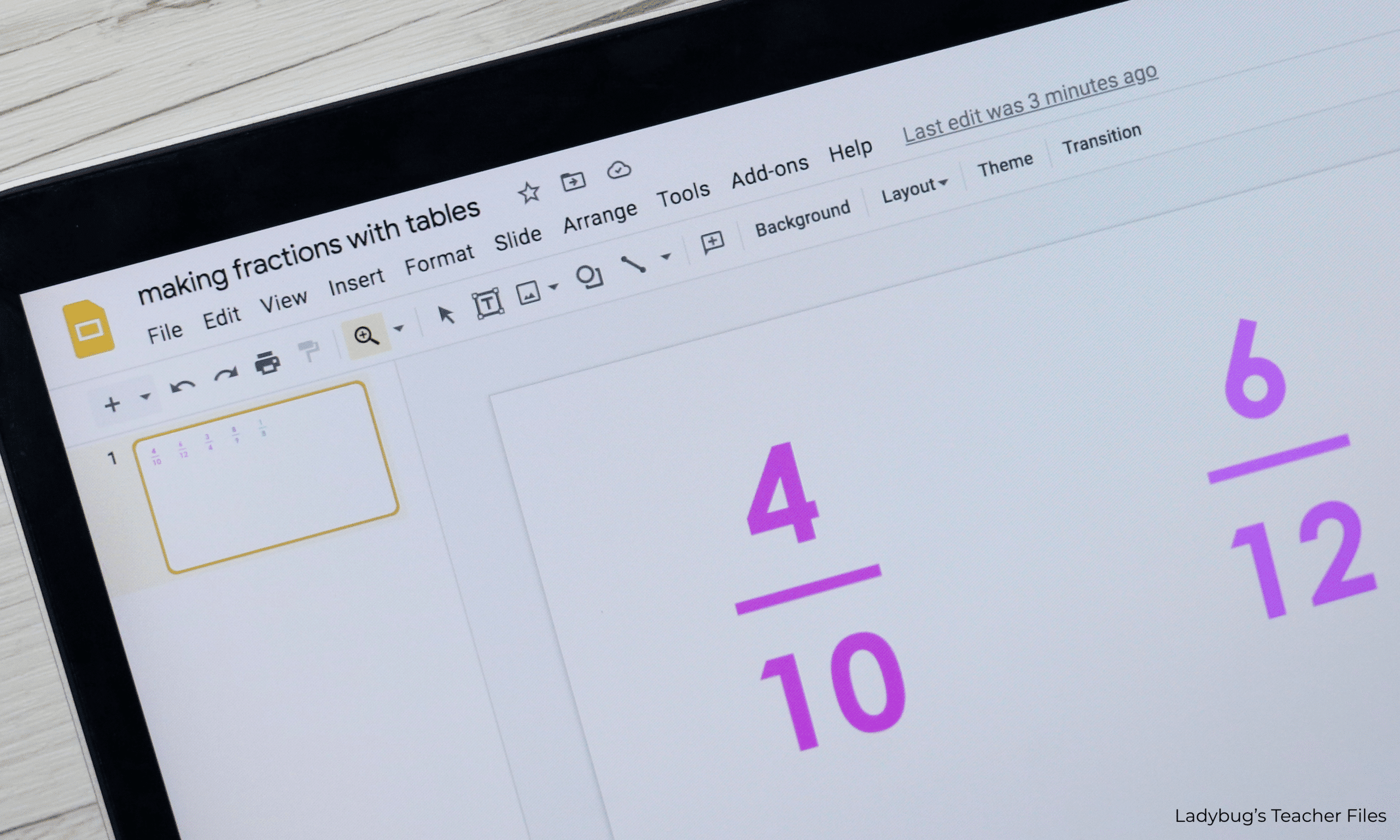 Making fractions with tables in Google Slides is an easy way to save yourself TONS of time this year!
Once you've created the templates you need with tables, you can save them to reuse again and again.
WHY USE TABLES?
I know many people like to use textboxes in Google Slides, but tables really do create the perfect setup for fractions:
they line up those numerators and denominators nicely
everything can be centered easily  with one click
typing into the table cell to replace old digits is much easier than typing into a textbox
Now I must confess, it took me a long time to figure this next part out.
I would make these templates for my fractions over the years and use them…but I NEVER saved them!! Each year I would have to go searching through my old assignments or just create them all over again.
Ugh.
Ok. Back to fractions.
With just a bit of setup now, you will be able to save yourself MANY precious minutes in the future.
Ready to save time??
Create THE table
Go to Insert, then choose Table.
Create a table with one column and two rows: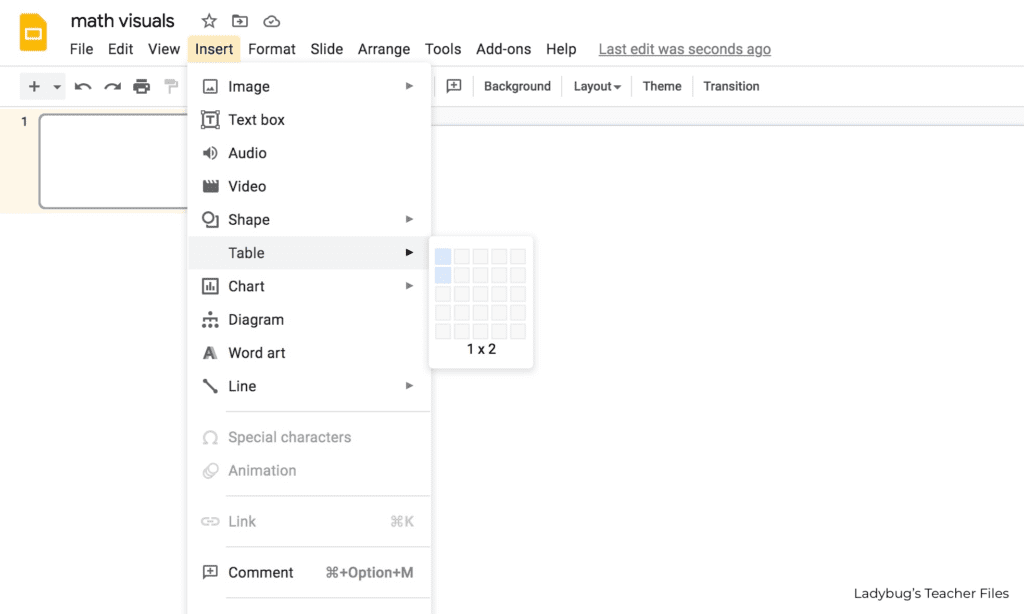 Select your table and make it as narrow as possible: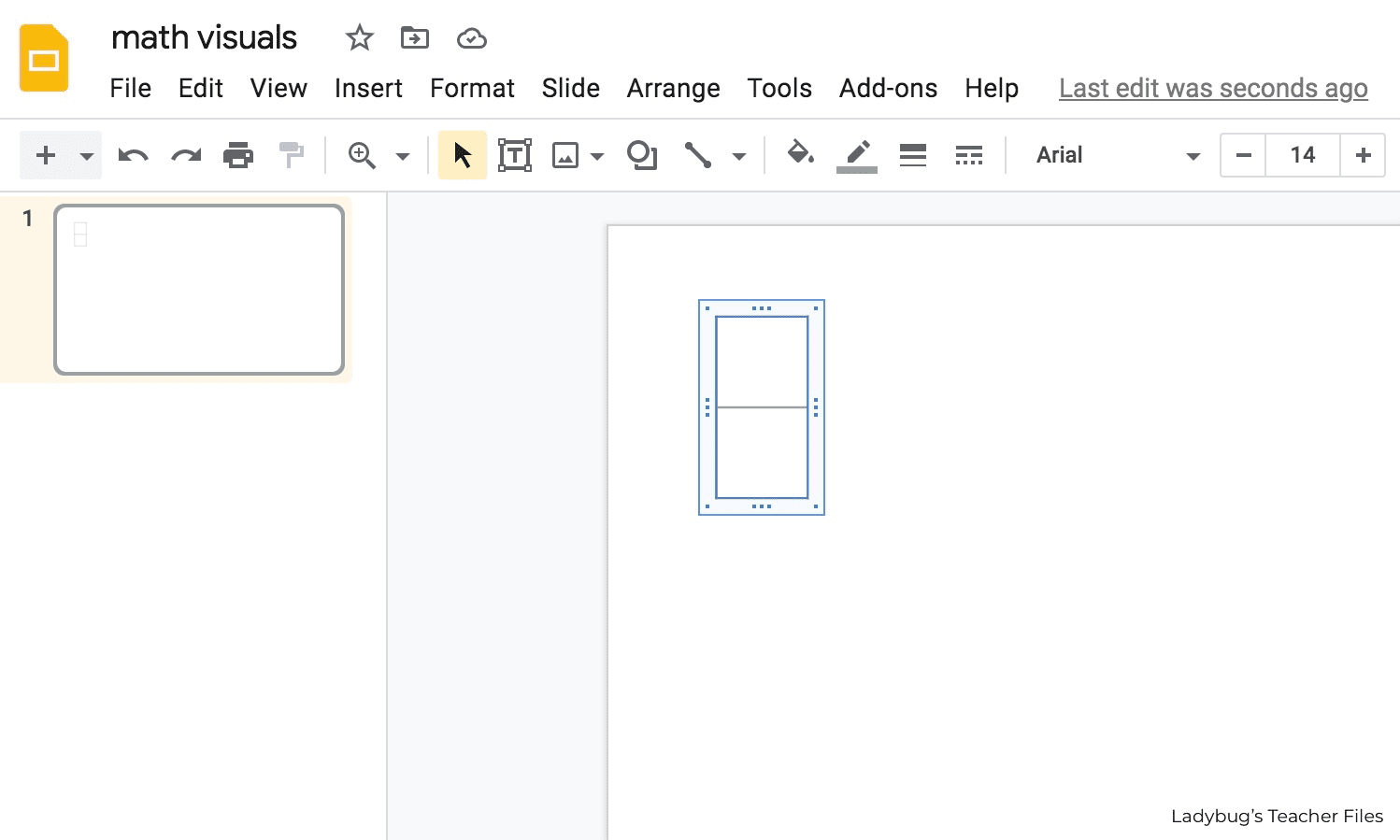 FORMAT THE table
With your table still selected, choose a font you would like for your fraction: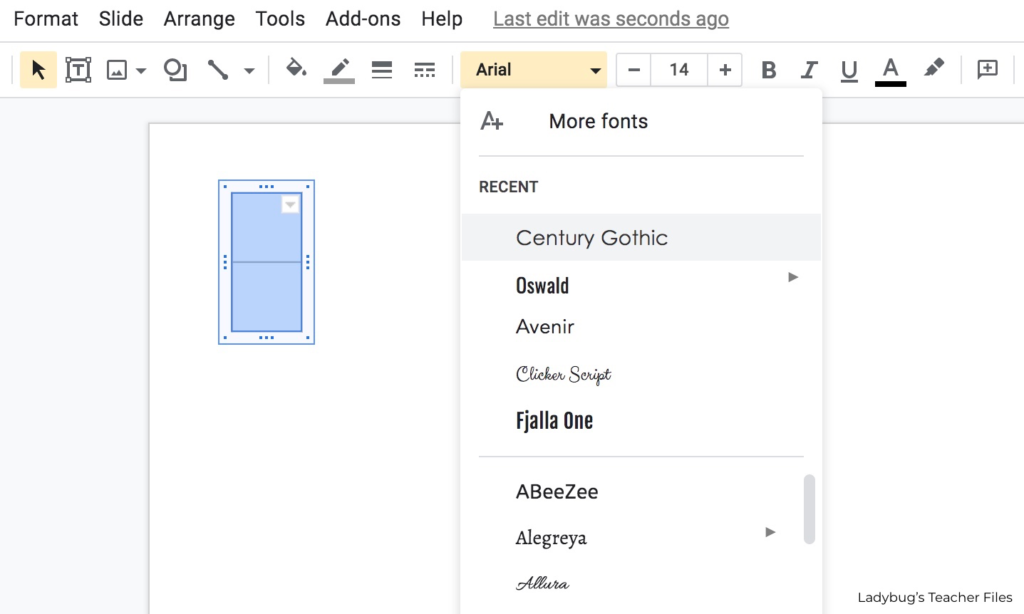 Now center all the text in your table:
Enter your numerator and denominator: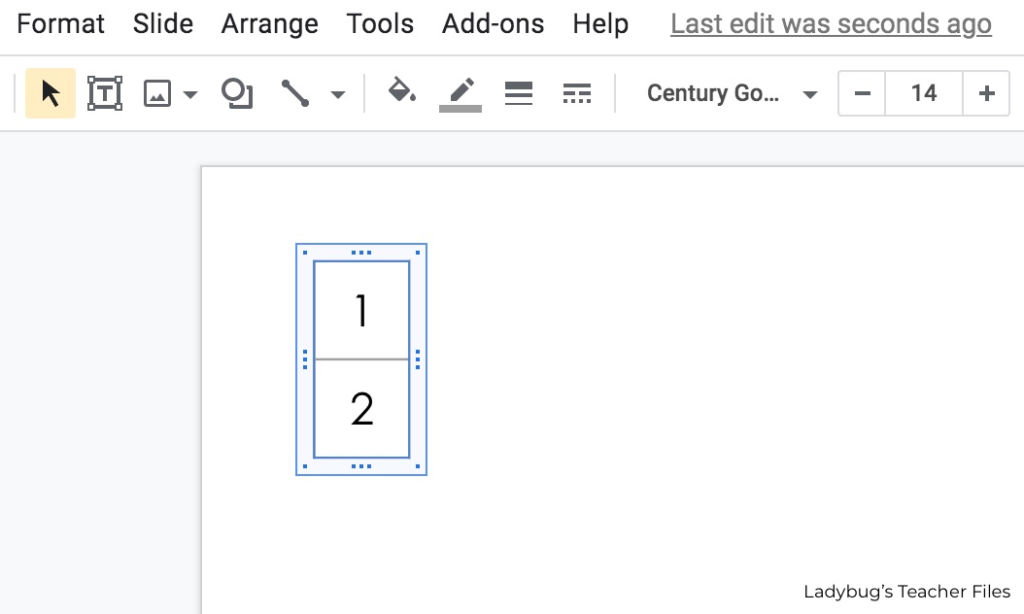 Be sure the table is selected. Go to the borders color menu and choose Transparent:
You could leave the middle border line as the fraction line…but I find that it's often too long, so I like to try these next steps to make it a bit shorter.
So now your table should like this: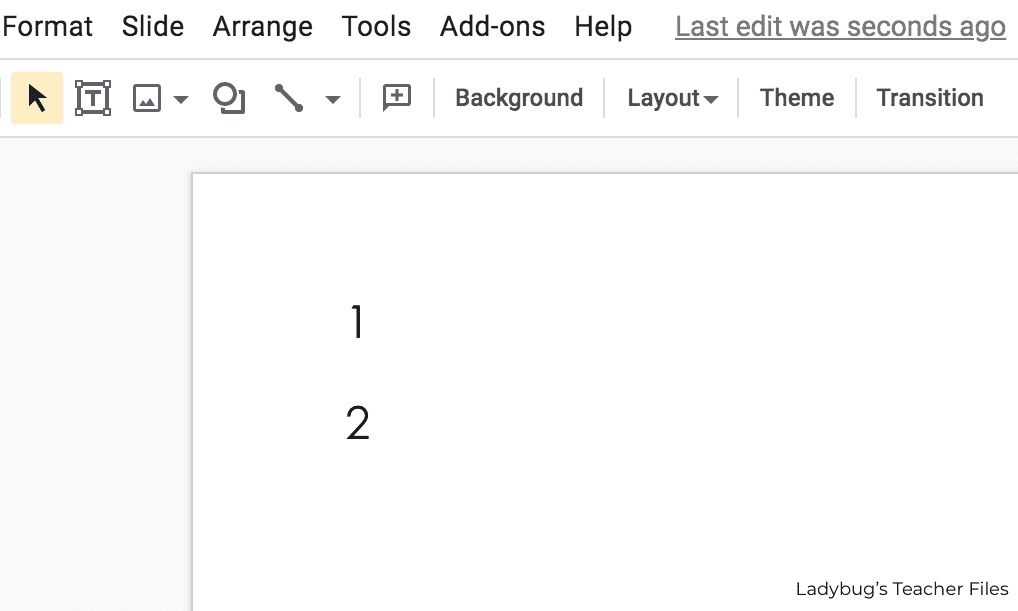 To create the middle line, go to the Line dropdown menu and choose Line:
Choose a color for this line: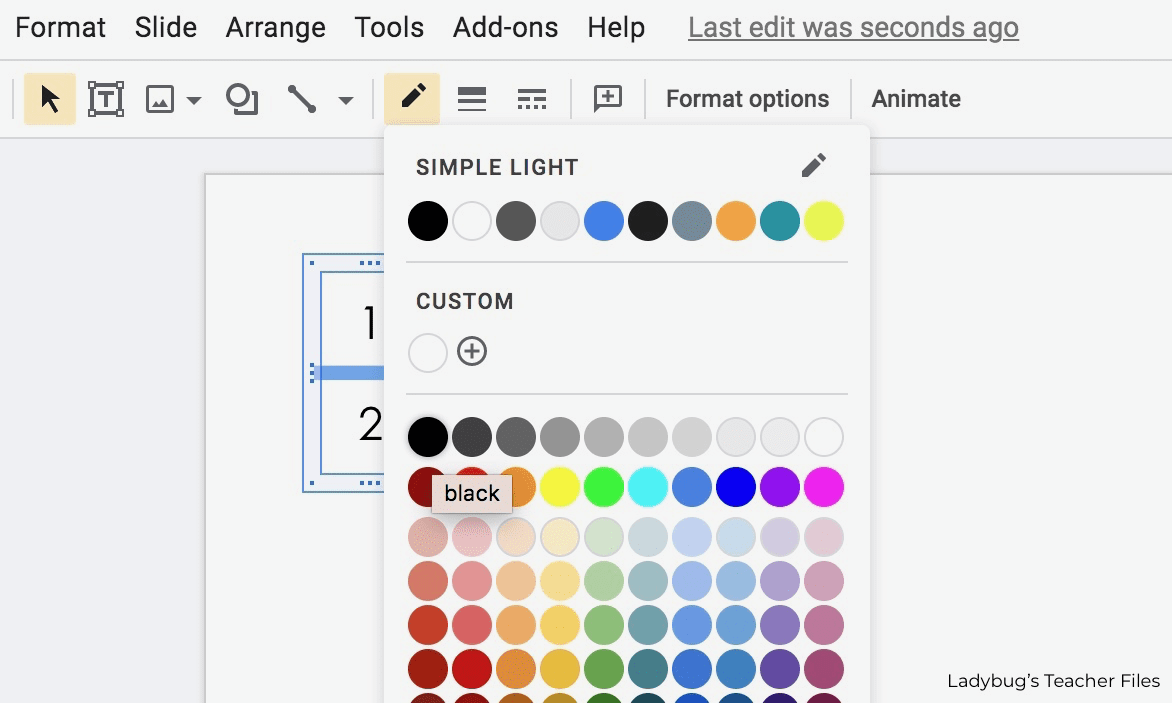 You can resize your line so it balances the numerator and denominator nicely…rather than being too long as the middle table border would be.
Drag the line until it is centered. The Google Slides red guidelines will help you do this easily: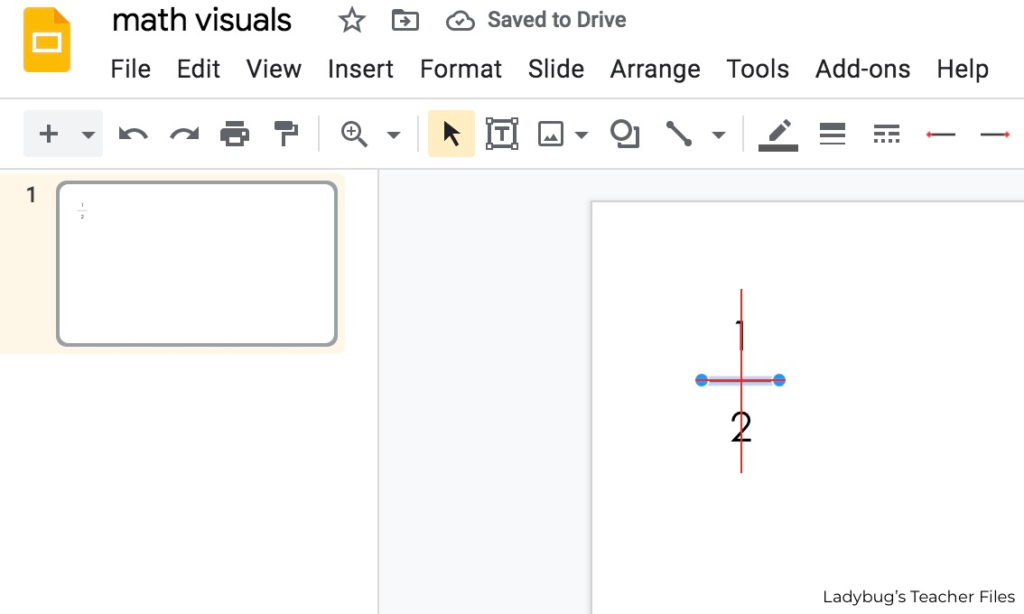 Now make a second fraction template with a two-digit numerator and denominator.
You may need to make this middle line a bit longer (which is why we are making a second fraction template):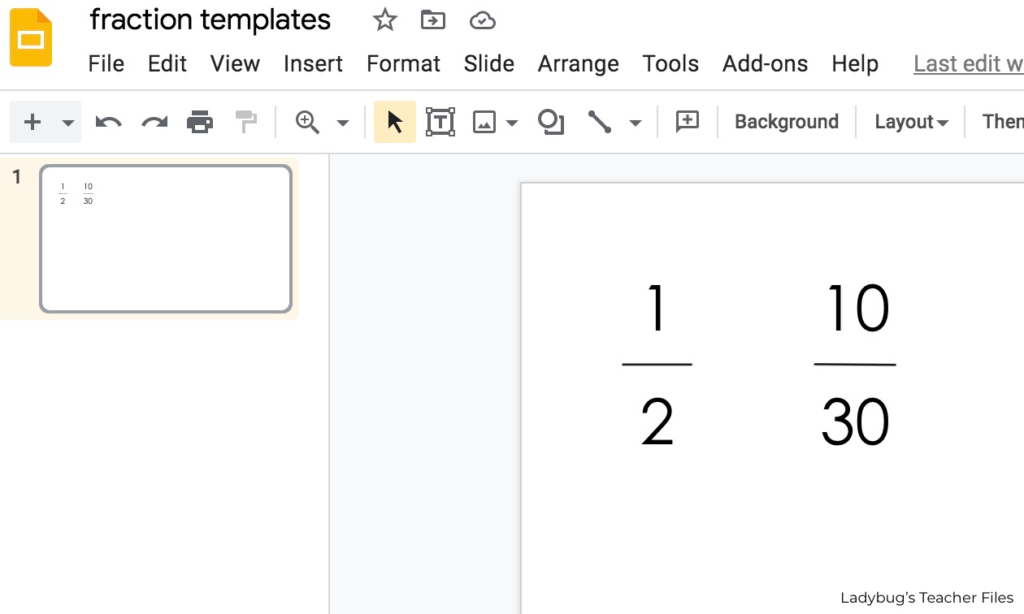 REUSE YOUR TEMPLATES
Now you can finish start using your fraction templates!
Starting in the white space outside of your fraction, click and drag over the fraction to select it (this will select the line and table you created, all at once):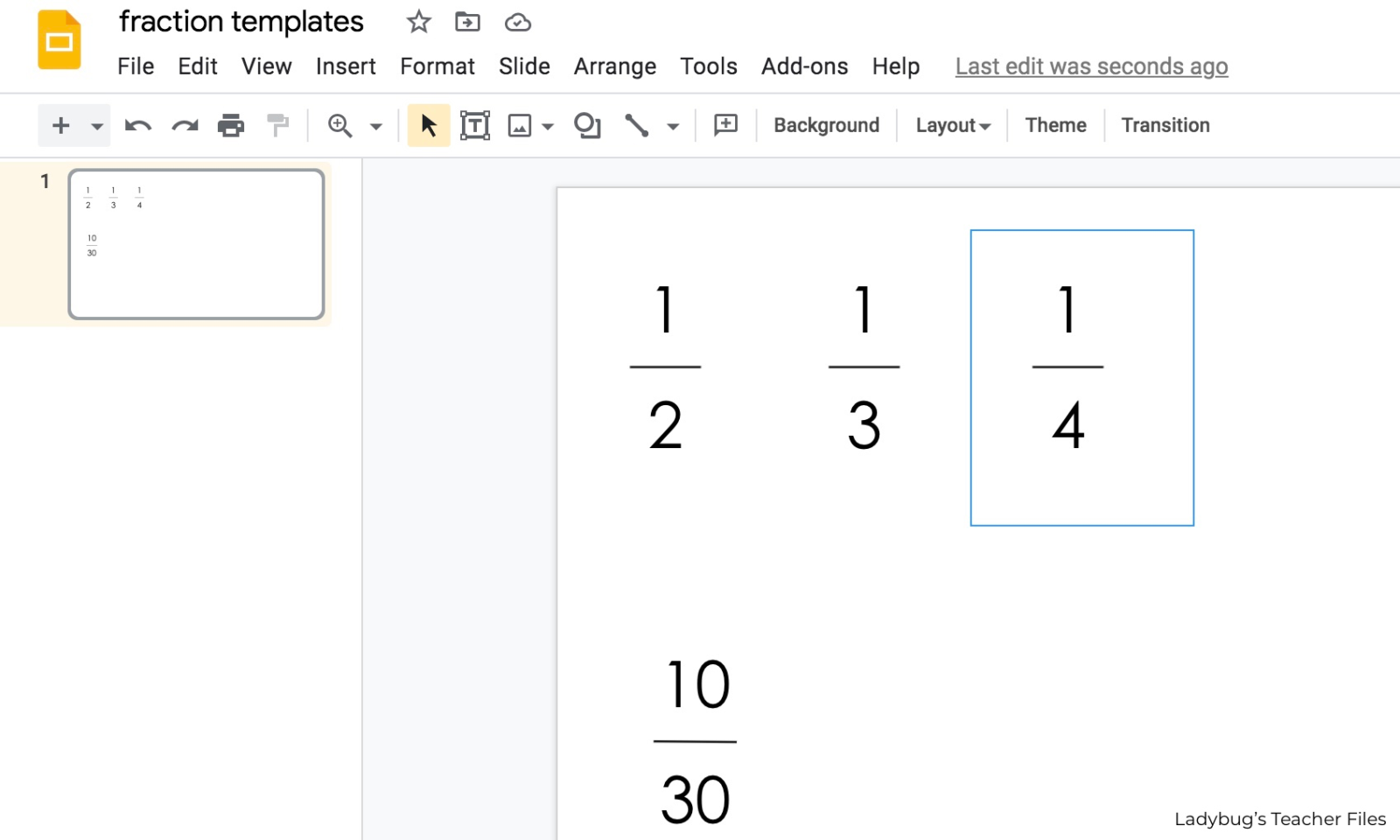 Once the fraction is selected, it can be copied and pasted into other slides to create assignments.
All you will need to do is type over the old numbers in your template. So easy!
STORE YOUR FRACTION TEMPLATES IN GOOGLE SLIDES
Learn from my mistakes.
Be sure to save your templates in a special slide so you can find them easily to use again and again!
You can also paste more fractions into your template slide if you want to set up a layout for a whole assignment page: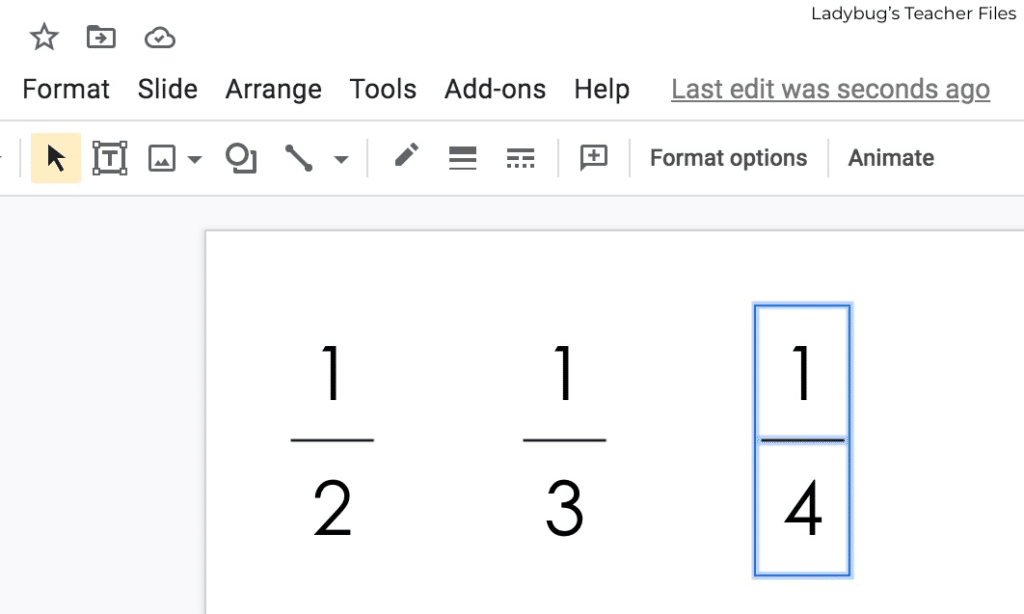 You can also create the benchmark fractions you know you'll use again in the future…this will save you so much time!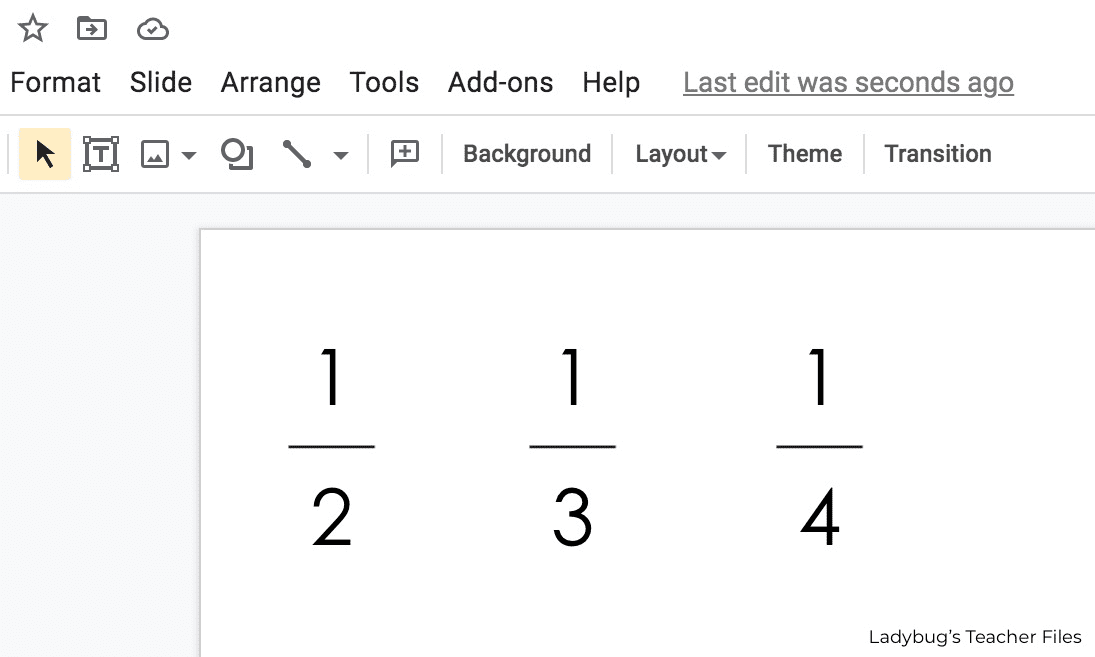 As you can tell, I love using tables for fractions.
And I created a ton of ready-to-use fraction templates in my Digital Math Tools Bundle. They have saved me SO much time in making assignments for my students!
I added visual menus and jump links to make it easy to navigate right to the tools needed…so you can copy the template, paste it into a Google Slide, and create the exact problems your students need.
Please click the image below to learn more about these Digital Math Tools: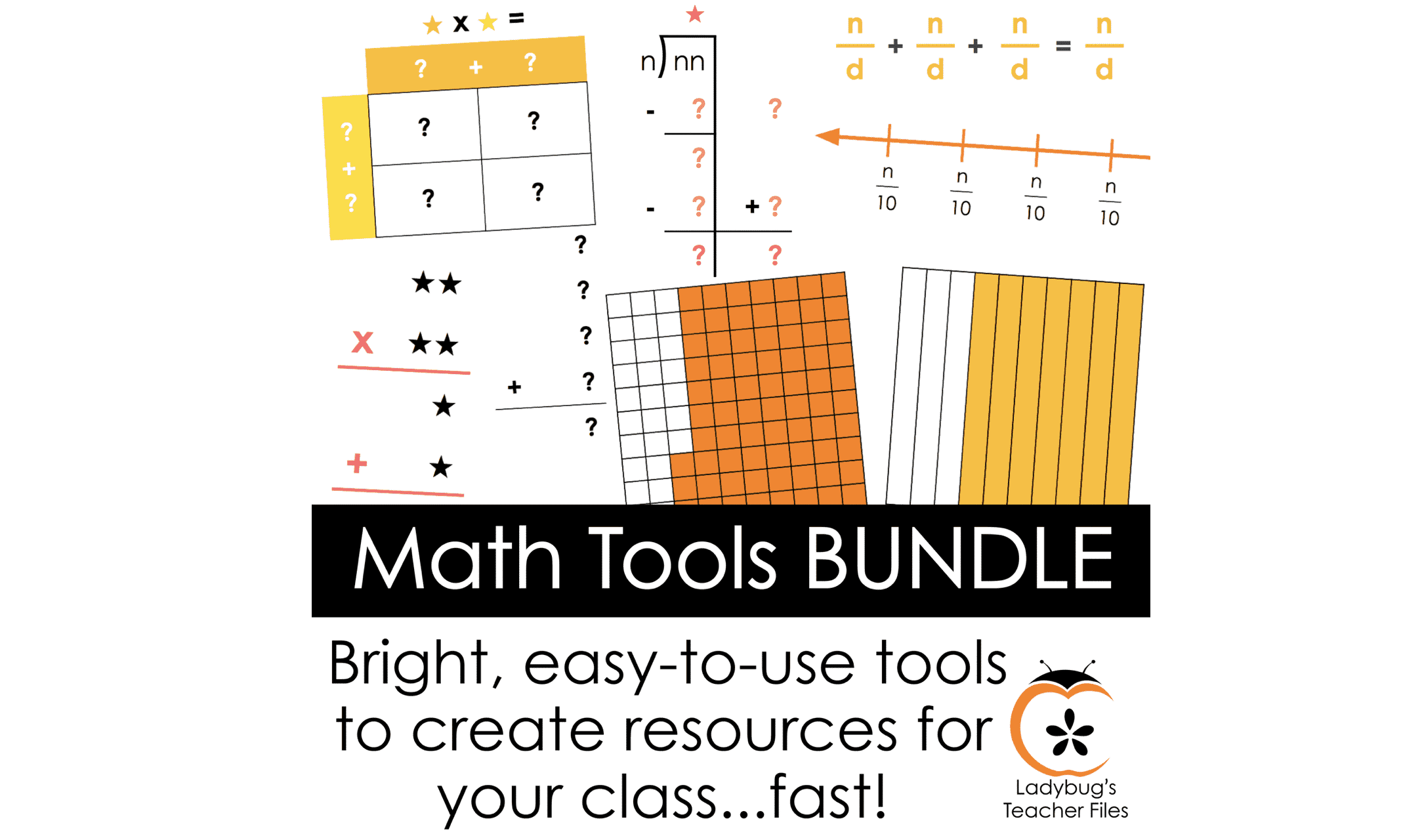 If you enjoyed this tutorial, please be sure to check out more ways to use tables to save time in math:
Thanks so much for joining me today! I truly hope this saves you a great deal of time while creating math assignments for your students this year.
Have you used tables to create fractions before?
Is this something you would try this year if you haven't already?
Kristen Beakey
I'm an elementary math coach with a passion for sharing beautiful, streamlined solutions to save teachers time. Ladybug's Teacher Files has been a work of love since 2010. Filled with organization, time-saving ideas, and make and take tech tutorials…I strive to save you time in all aspects of your teaching!