Well, after all that hard work of laminating and arranging library bin labels this winter, turns out they FADED!!! I had placed the labels on that purple paper (can you see it in the photo?) and the purple is kind of gray now. The sun comes through our windows most of the day so…

Actually, I can't lie to you–I don't really mind because it gives me an excuse to change up the labels a bit!!
By the way, have I told you I'm changing my color scheme this year? I've had the shades of blue for a couple of years, then turquoise and black, and now, I'm ready for something new!
I'm trying to keep it relatively low-budget. So far, I've only ordered a new scene setter, a couple of new lamps, and contact paper for the desks. I plan to keep everything else storage-wise, just update the room and storage with new labels and signs.
So, I was thinking with this new color scheme, I wanted to try something else. I want to make the whole room look really streamlined and draw attention to the student's work and important signs and labels, more than anything (sometimes I think I get a little sign-crazy).
If this makes any sense, I want it to look kinda bloggy…you know, colorful, organized, different shapes. Just really eye-catching!
So, back to the labels. I was thinking it would be really cool if some of the labels were round, instead of square. I don't know about you, but I am terrible at cutting shapes…they always come out kinda lopsided. So I did some searching around the net and found the coolest little scrapbooking tool…it's by EK Success and it cuts circles!!! It's so easy too!!
I tried it out with my leveled library labels first. In keeping with my bloggy, streamlined approach, I simplified them a bit to just show the color and letter part (backed on black paper):

Side note: I am having a TERRIBLE time trying to find a place in the house to take good photos. I love taking them in my the classroom because of all the fantastic lighting. Here…it's pretty dreary weather lately and hard to find good light. Hence, the next picture was taken on our porch: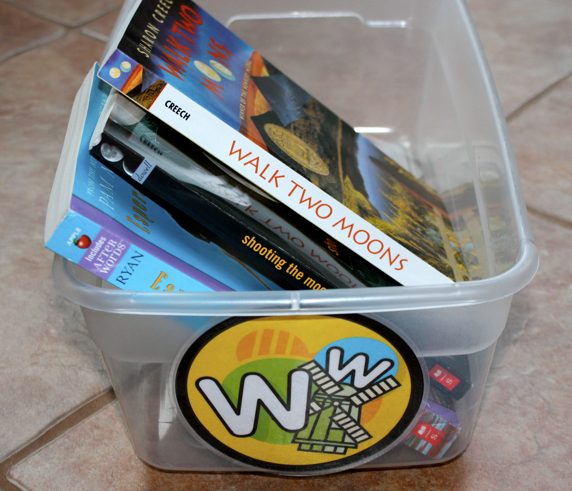 Ok, so I know this round label thing may seem really silly…but I think it might be one of those little things that makes a really nice touch with the new design and will pay off in the end. Hopefully.
I was hesitant to share the round ones, only because I'm not sure how many other people would actually like to try this. If so, please let me know and I'll share them in the next post.
But I can't leave without sharing something with my lovely friends, so I am attaching the leveled labels in a larger size, in case you'd like to try a different-shaped label or one backed on black paper like this. They are similar to the ones shared in Leveled Bin and Book Labels, just not in boxes. They are also in a Word Doc., so you can resize them as needed.
The file is below–and let me know about the round labels, I'd be happy to share them as well! 🙂